Academic stress and sensory processing disorders (SPDs) are on the rise among students in Australia, and we're seeing a direct impact on academic performance, health, and overall well-being. As students learn and process the world around them, having a safe space to shut out the noise and self-regulate is becoming increasingly important.
That's the power of a sensory room – a calming, immersive space that intentionally combines a variety of stimuli such as sound, colour, light, and tactility. It's a space to reset, where students can relax, positively engage the senses, and develop communication and motor skills.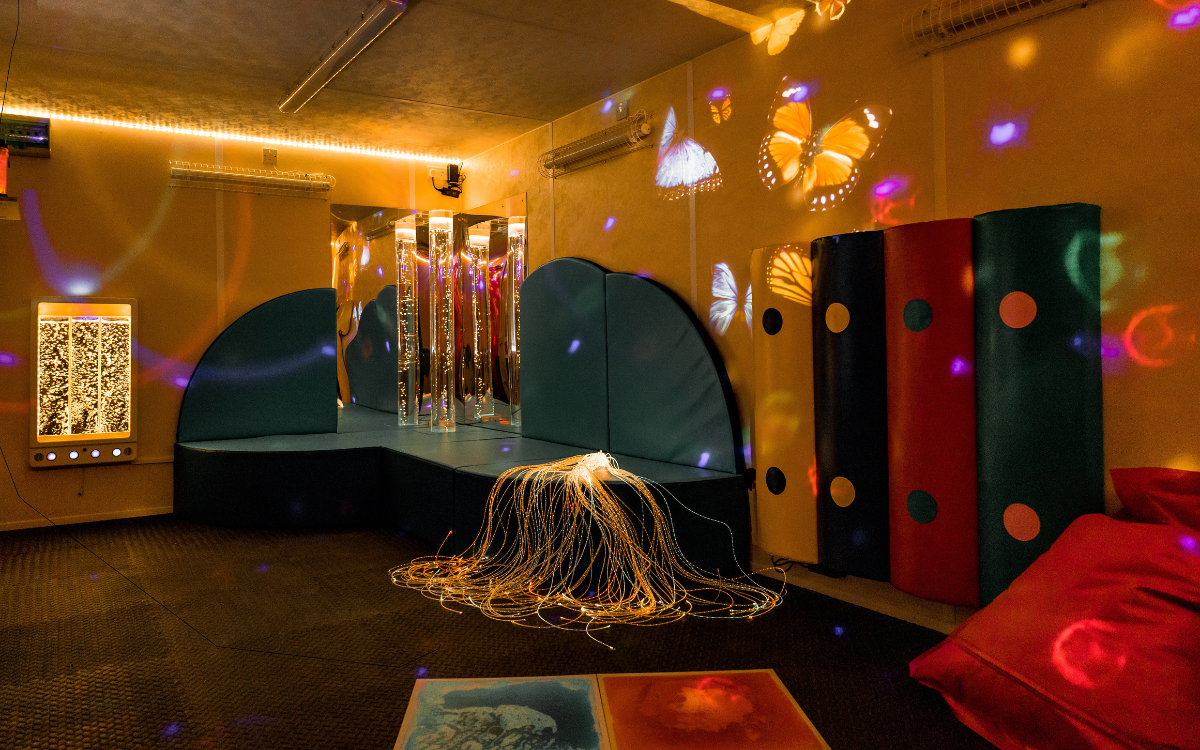 A sensory space engages the senses to support mental, psychological, social, and emotional well-being. These senses include:
Visual (sight)

Auditory (sound)

Tactile (touch)

Vestibular (balance)

Olfactory (smell)

Proprioceptive (body awareness)
HOW SCHOOLS BENEFIT FROM A MULTISENSORY SPACE
As each student enters the classroom with a unique set of challenges and life experiences, we can no longer ignore the ineffectiveness of a one-size-fits-all approach to our learning environments.
Multisensory spaces use the neuroscience behind how we learn, to create a truly immersive experience for all age groups and abilities.
By supporting a range of needs from relaxation to emotional regulation and skill development, a multisensory space gives schools an inclusive environment for all students, both neurodiverse and neurotypical, to learn and grow to the best of their ability.
HOW SENSORY SPACES ASSIST STUDENTS
Sensory spaces give students a calming and inclusive environment where they can:
Self-regulate and manage anxiety.

Improve their sensory processing, focus, and engagement.

Effectively communicate and interact with others.

Develop cognitive and motor skills.

Feel in control.
Whether supporting specific learning needs or helping students navigate anxiety and stress, a multisensory environment provides a safe space to process emotions and behaviours.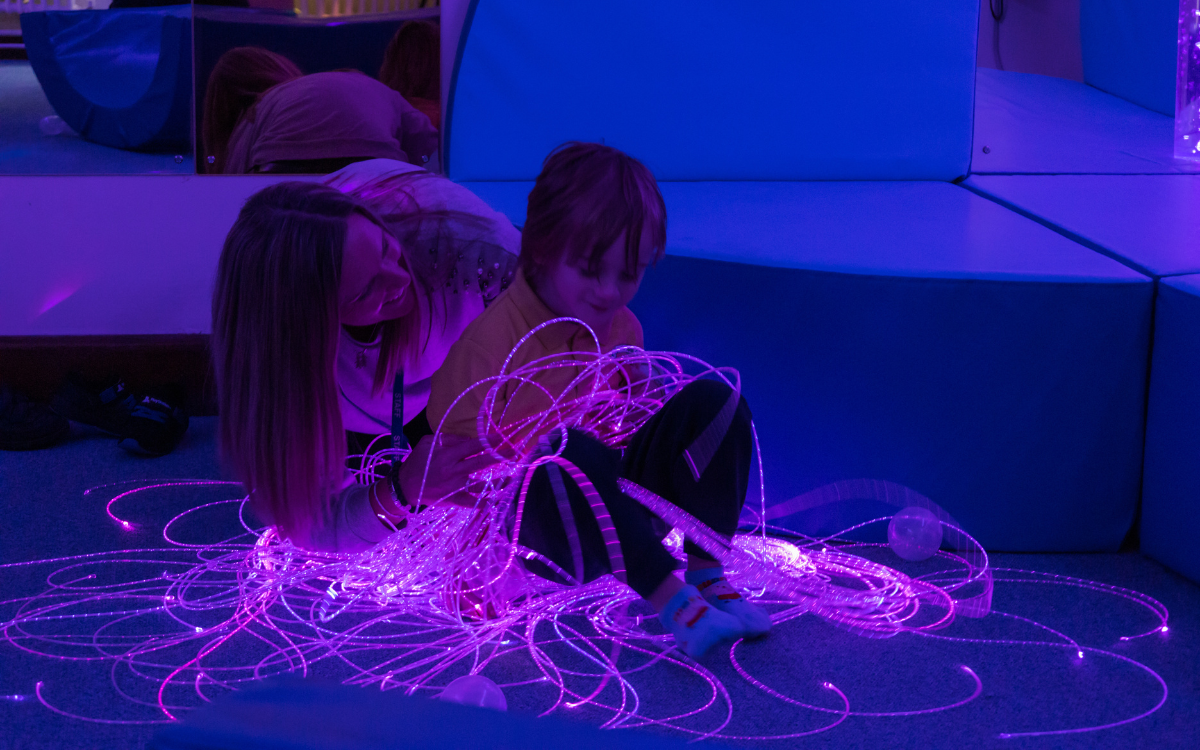 SENSORY SPACES FOR SSP'S, MENTAL HEALTH AND DISABILITIES
Sensory environments are fully customisable, making these spaces a powerful tool for addressing the complex needs of students living with SPDs, neurodivergent conditions, or mental illnesses.
From stress relief to emotional regulation, a sensory space lets students relax, self-regulate, and have quality interaction with others, all at their own pace.
Sensory spaces are also effective in managing or preventing sensory overload. Students can self-regulate and decompress until they feel in control and relaxed.
WHY SENSOTEC?
We work with principals, teachers, therapists, and counsellors within the education sector around Australia, to create multi-sensory environments for:
Primary schools (public & private)

High schools (public & private)

Schools for Specific Purposes (SSPs)

Colleges and u

niversities
Our multisensory environments are for neurodiverse and neurotypical children alike; everyone benefits from having a space to regulate and reset.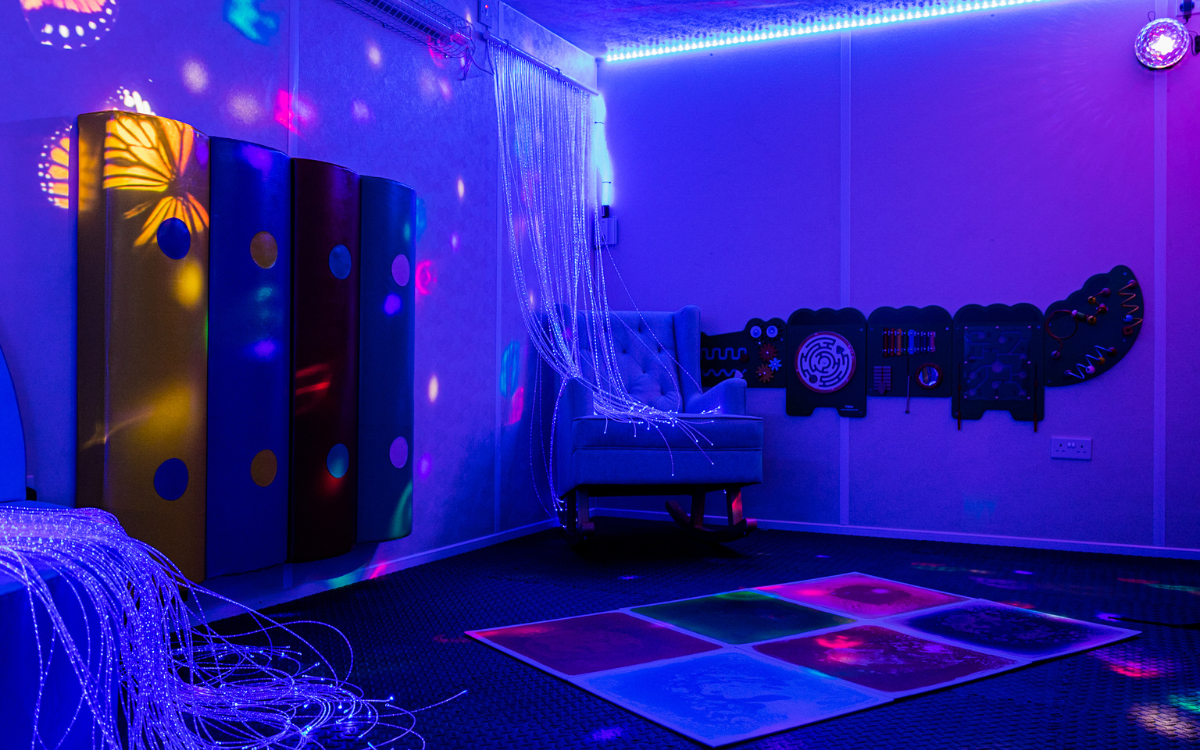 CREATING A SUCCESSFUL AND INCLUSIVE SENSORY SPACE
Not sure where to begin? We take out all the guesswork and guide you through the process from start to finish.
Explore
The first step in creating a successful sensory space is exploring your objectives. What are the key sensory needs of your students? This can range from motivating students to initiate verbal communication, to emotional regulation or relaxation. Once we've established your relevant goals and outcomes, it's time to choose the right products to fit your vision and available space.
Design
As part of the design process, we purposefully choose furniture, furnishings, and resources to bring your vision to life. A detailed 3D room render shows you exactly how your sensory space will look and feel when complete. Once the layout design is finalised, you will receive a detailed proposal for a no-surprises result.
Deliver
A project manager will oversee all aspects of manufacturing, delivery, and installation. We personally deliver and install your sensory room, ensuring it is set up on time, defect-free, and ready for immediate use. After installation, our customer service team is on call for any queries or modifications.
Take a closer look at some of our most popular sensory products…

RELAX, STIMULATE, ENGAGE – SENSORY PRODUCTS THAT MAKE A DIFFERENCE
Sensory Module Sets
With a wide range of configurations, a sensory module set provides a relaxing space to self-regulate, reduce sensory overload, and improve sensory integration skills. Customise the colours to align with your school's branding and choose between a bubble tube or a light tube.


Fibre Optic Strands
Light up your multisensory space with fibre optic strands – a visually engaging and tactile experience that encourages sensory processing, relaxation, and fine motor skills.
Interactive Wall Panels
Engage the visual and auditory senses with an interactive wall panel. A combination of colour, sound and movement, these panels help improve focus and self-regulation, reduce stress and anxiety, and encourage interaction.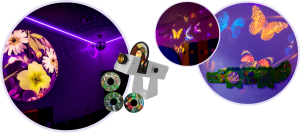 Spinning Projector
Create an immersive and visually stimulating space with a slow spinning projector. Including five interchangeable scenes, a projector helps improve focus and concentration, promotes self-regulation, and strengthens colour recognition, memory building, and tracking skills.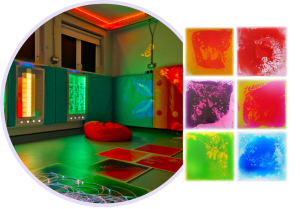 Liquid Floor Tiles
Add a fun visual and tactile experience to your space with Liquid Floor Tiles. Their bright colours and mesmerising patterns encourage movement, motor skills development, and exploration of cause and effect.
Additional sensory products popular in educational spaces include beanbags, LED mood shapes, and fibre optic mats. Our product range also includes a wide variety of sensory resources, soft seating, mats, and quiet retreats. Short on space? A sensory trolley gives you the ultimate all-in-one sensory experience.
PORTABLE SENSORY EQUIPMENT – FLEXIBLE, PRACTICAL, AND ECONOMICAL
If you don't have a dedicated space for a sensory room, discover the versatility of a portable sensory trolley. Combining several multisensory products into one streamlined unit, a portable sensory trolley takes up very little space and can be easily moved between rooms as needed.
Pick and combine products to customise the trolley to your desired learning outcomes and budget. It's portable, flexible, and practical – making multisensory stimulation accessible to everyone. Learn more about portable sensory equipment and its benefits here. 
SO, WHAT ARE YOU WAITING FOR?
Sensotec will guide you through the entire process, from the initial consultation to design, delivery, and installation.
In addition, we offer custom colours across our range of sensory modules and soft seating, creating a cohesive space that aligns with your school's branding.
Ready to begin your sensory journey? Contact us today at 1300 622 180, or info@sensotec.com.au to have a chat.